When it comes to kitchen work, a good pair of chef shoes is as important as your knife. Every chef knows the importance of high-quality kitchen shoes. Without the right shoes, you'll get blisters, back pain, and injuries. A kitchen is going to be the most challenging work area that can be very intimidating and stressful at times. 
Here's your complete guide to the best chf shoes for kitchen work. We'll be looking at what makes a good pair of shoes, different types of slip on kitchen shoes, and the top brands, including where you can buy them.
What are kitchen chef shoes?
Non slip kitchen chef shoes are designed to provide comfort and support while working in a kitchen environment. They typically have slip-resistant soles to help prevent slips and falls and are often made from breathable materials to help keep your feet cool and comfortable. Some non slip kitchen shoes also feature waterproof or water-resistant materials to help keep your feet dry in wet conditions.
Non slip kitchen Chef Shoes are designed to help protect your feet and keep you safe. They have a variety of features, including steel-reinforced toes, SBR slip-resistant outsoles, heavy-duty uppers, and more.
Chef shoes functions and specification
Slip on chef shoes have a variety of functions that are important for working in a professional kitchen. They slip on easily so that you can quickly get in and out of them as needed. They also have good traction to prevent slipping on wet or oily floors. Additionally, they are comfortable to wear for long periods of time and have good ventilation to keep your feet from getting too sweaty.
| Chef shoes function | Chef shoes specification |
| --- | --- |
| Anti Slip | Upper: EVA |
| Anti Tamp | Lining: EVA |
| Anti Puncture | Outsole: Rubber |
| Breathable | Midsole: N/A |
| Shock Absorption | Insole: Breathable insole |
| ESD function | Toe type: Steel toe or N/A |
| Oil Resistant | Size: 37-48 |
| Chemical Resistant | Color: Black/White |
| Water Resistant | MOQ: 100 PAIRS |
| Heat Resistant | Delivery time: 10 days |
Top 10 best chef shoes for working in a kitchen
The chef's shoes are an essential part of the chef's uniform. It is important to have the right pair of shoes for your job. Chef kitchen shoes can be expensive, but not all of them are worth it. You do not want to spend money on something that does not last long or does not fit properly.
Here are our selections of the chef shoes best for working in a kitchen:
Crocs have been a leader in comfort footwear since 2002, and Crocs Unisex On Slip on chef shoes Clog is no exception. You can't go wrong with this classic Crocs clogs chef shoes that features a slip-on design, durable Croslite™ foam construction, and easy-to-clean foam upper. A foam footbed conforms to the shape of your foot for outstanding comfort, while a Croslite™ outsole delivers excellent traction. Crocs is one of the most popular brands in the world! 
The Crocs Unisex On Slip-on Clock Clog is a comfortable clog that is perfect for the casual performer. The clogs chef shoes features a lightweight EVA outsole, which is flexible and durable. The Croslite material used in this shoe provides superior comfort with every step you take. This clogs chef shoes has an adjustable strap to help secure your foot in place, making it easy to wear and take off.
Crocs Unisex On Slip-on Clock Clog Features:
Lightweight Croslite™ foam clog
Slip-on design for easy on and off
Offers support and flexibility
Available in multiple colors
The Dansko Women's kitchen shoes XP 2.0 Black Waterproof chef shoes are stylish and comfortable chef shoes for the kitchen. These shoes are made with Dansko's signature soft leather upper that molds to your feet for a custom fit. They have a durable rubber outsole that is slip-resistant and oil-resistant, so you can wear these in any kitchen setting. The waterproof construction will keep your feet dry even when water comes splashing around during the cooking process. The best women's kitchen shoes XP 2.0 has a professional look, so they're perfect for anyone who works in the food service industry or as a chef!
The Dansko chef shoes for women's XP 2.0 Black Waterproof provide comfort and protection with a waterproof rubber outsole and slip-resistant tread. The cushioned footbed keeps your feet comfortable all day long, while the molded EVA midsole provides underfoot cushioning. The elastic gore stretch panel allows for a snug fit, while the non-marking sole keeps floors clean and safe.
Features:
Waterproof
Slip-resistant sole
Cushioned footbed
EVA midsole
Elastic gore stretch panel
Skechers is one of the most popular brands in the world and has been for decades. They offer a wide variety of styles and designs for both men and women. If you're looking for best shoes for chef that can help you stand out from the crowd, look no further than Skechers.
The Skechers Men's Flex Advantage Slip Resistant Chef Shoes are an excellent example of what this company has to offer. They come in a variety of colors including black, tan, navy blue, and white. These shoes are made from leather so they'll last for years to come. They are also very comfortable chef shoes, which is important when you're wearing them all day long at work or school.
Skechers flex advantage chef work shoes are designed with a durable upper and slip-resistant outsole to help you keep your footing. it is best mens kitchen shoes, They feature an OrthoLite® footbed that offers cushioning, support and breathability. The lightweight material makes them easy to wear all day long. These restaurant shoes are ideal for chefs who are on their feet all day.
Features:
Cushioned footbed for comfort
Slip-resistant outsole for traction
Durable upper
The Knee Men's PTC Dress Oxford Leather best kitchen Shoes for chef are a great addition to your wardrobe. These shoes are made of leather, which is a durable fabric that will last for years to come. They feature an ankle strap with buckle closure, making them easy to put on and take off. The rubber sole provides traction and durability so you can wear them all day long!
The Knee Men's PTC Dress Oxford Leather best kitchen Shoes for chef are comfortable enough to wear all day long and they look great with any outfit. These shoes are available in several different sizes so you can find the perfect fit for you. You'll love how easy these shoes are to clean because they can be wiped down with a damp cloth or sponge if necessary.
Features:
Leather upper
Lace-up closure
Rubber sole
The Blundstone steel-toe work Chelsea boot has been an industry standard for years because it's comfortable and durable. Its classic design features a full-grain leather upper that's been oil-and-waxed to keep it waterproof and breathable. It also features a padded collar around the ankle to support you when you're on your feet all day.
The Blundstone steel-toe work Chelsea boot features a non-metallic composite toe cap that protects against impacts up to 200 joules of force while still being lightweight enough not to weigh down your feet. It also has a rubber outsole with great traction so you won't slip over on wet surfaces or slippery ones like mud or snow.
Blundstone steel toe safety shoes for kitchen staff are available in sizes 6 through 14 for men as well as 5 through 13 for women so you'll be able to find the right fit for your feet no matter what size they are.
Features:
Anti-fatigue comfort system, providing all-day comfort and support.
Steel toe kitchen shoes meet specific safety requirements.
Ankle stability, ensuring the boot stays in place when you're on the move.
A padded collar adds extra comfort to the ankle.
The Crocs Bistro clog is a casual slip-on kitchen shoes that's perfect for dinner parties and backyard barbecues. The thick tread outsole keeps you steady on your feet, while the soft upper provides comfort so you can stay on your feet all night long. The Crocs Bistro clog chef shoes has a memory foam footbed with open cell technology that molds to the shape of your foot creating a customized feel with every step. This style also features Crocs Lock technology, which offers the stability and support of a traditional shoe while still allowing you to feel the ground beneath your feet.
The Crocs Bistro Clog shoes and Graphic Bistro Clog shoes are both comfortable, durable, and stylish. The clogs are designed to be worn as an alternative to sandals, flip-flops, or sneakers.
The Bistro Clog is available in a variety of colors and has a removable footbed that can be replaced with other Crocs footbeds. The Crocs Graphic Bistro Clog has a fun design on the outsole that makes it perfect for those who want to make an impression.
Features:
rubber outsole with signature Crocs waffle tread
the soft footbed that molds to the shape of your foot
it's lightweight, flexible, comfortable, and extremely durable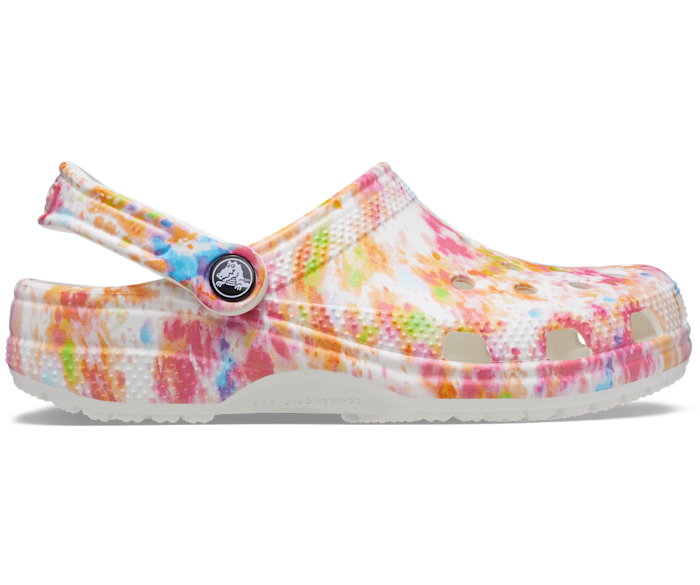 The Crocs Classic Tie Dye Graphic Clog is a fun and colorful way to add a pop of color to any outfit. This Crocs clog chef shoes is available in a variety of sizes, so you can find the perfect fit. Also, it comes with a removable footbed that will keep your feet happy all day long. The Crocs Classic Tie Dye Graphic Clog is made out of Croslite foam, which means that it's lightweight and comfortable! The Crocs Classic Tie Dye Graphic Clog comes with this extra-wide strap that makes it easy to get on and off your feet.
Features of the Crocs Classic Tie Dye Graphic Clog:
3mm Croslite™ Material Upper
Croslite™ Material Footbed
Easy On/Off Hook-And-Loop Tab With Adjustable Strap For Secure Fit And Customized Comfort
Flexible Non-Marking Rubber Outsole
8. Restaurant Shoes for Crews Radium anti slip Kitchen Clog Shoes
The Slip-Resistant Kitchen Clog Shoes is a great shoe for anyone working in a restaurant, kitchen, or other environments where slip resistance is essential. These shoes are made with a slip-resistant sole and an anti-microbial footbed to help prevent odor and bacteria growth. The upper has been constructed using synthetic leather and suede materials that are comfortable against the skin and easy to clean.
This clog has been tested by the ASTM F2913 standard test method for anti-slip properties on wet surfaces, making it a great choice for kitchens and other food preparation areas where you need to be able to keep your footing even when conditions aren't ideal. this anti slip kitchen shoes is available in both men's and women's sizes in black/charcoal, brown/charcoal, and black/white color options.
Features:
One-piece construction for durability
Seamless upper for comfort
Non-marking outsole for traction on all floor surfaces
The slip-resistant outsole helps reduce the risk of slips on wet and greasy floors
9. Crocs on the Clock Chef footwear Work Slip On
Crocs on the Clock Chef footwear Work Slip On is a comfortable, slip-on shoe that makes it easy to get your feet on and off. It has an open heel, making it easy to put on with or without socks. The shoe's wide toe box and ergonomic footbed provide all-day comfort.
Crocs on the Clock Chef Shoes are perfect for chefs who are on their feet all day in the kitchen! These shoes feature a black upper with red accents, making them stylish enough to wear outside of work. The Crocs logo is also featured on the heel of each shoe. These Crocs Chef Shoes are available in men's sizes: 6-12, 13-14, and 15-16.
Crocs Chef Shoes Work Slip On features:
Slip-on design
Open heel for easy slip-on wear
Wide toe box for extra room and comfort
Ergonomic footbed for all-day comfort
Anbu safety is one professional non slip kitchen shoe manufacturer in China, we supply different styles of anti slip chef shoes and slip resistant kitchen work shoes, leather chef shoes, slip-on-resistant chef shoes, white nurse shoes, chef clogs, etc to 30 countries.
We have many years of experience in the design and production of non slip chef shoes, and we have been in this field for more than 10 years. We've worked with a variety of enterprises, and the quality of our products is well received by many customers from all over the world. In addition, our customer service team will reply to your questions quickly.
Our cheap chef shoes are designed to keep you comfortable and feeling your best as you cook up a storm in the kitchen. Each pair of non slip chef shoes is constructed with high-quality materials such as durable leather and beech wood, with removable insoles that can be easily swapped out depending on how much padding you want underfoot. Total to say, they can be the best shoes for kitchen worker to use.
Features:
Slip-on design
Open heel for easy slip-on wear
Ergonomic footbed for all-day comfort
Why are kitchen shoes important for chefs?
Chefs are on their feet for long periods of time, so comfortable shoes are essential. Slip resistant kitchen shoes also need to have good traction to prevent slips and falls. In addition, they should be easy to clean since chefs are constantly working with food and liquids.
Restaurant shoes should have a slip-resistant sole that provides adequate support for standing all day. A high-quality pair of restaurant chef shoes should have a reinforced toe cap and heel for added durability.
A chef's work environment is typically very hot and humid, so wearing lightweight slip on kithchen shoes is best. A pair of waterproof kitchen shoes will keep your feet dry even if you're working in wet conditions like near an open flame or in front of an oven door.
In addition to protecting your feet from potential dangers in the kitchen, good-quality slip on kitchen shoes can also help protect you from serious injuries — especially if you work at high temperatures or with sharp edges or surfaces that could cut into your skin. Good quality shoes can also keep your feet from sweating excessively which can lead to bacteria growth and odors on your feet or socks.
How many types of chef shoes?
There are many types of restaurant kitchen shoes, each designed for different kitchen environments and tasks. Some of the most popular types include clogs, slip-on shoes, and steel toe work shoes.
Clogs
Clogs are a type of chef shoe that is designed to protect the feet while keeping them cool. They can be constructed from leather or polyurethane and are perfect for use in high-heat environments. The best clogs for chefs offer maximum protection against burns and blisters on the feet, as well as support for those who spend long hours on their feet.
Slip-On Shoes
Slip-on shoes are another type of chef shoe that is ideal for use in restaurants with hot surfaces and greasy floors. These shoes provide a barrier between your feet and dangerous surfaces like hot ovens or grills, which can cause burns or other injuries if you stand too close for too long. They also feature waterproof materials so they can protect your feet from spills in the kitchen.
Steel Toe Chef Shoes

Chef shoes steel toe provide extra protection against impact and compression by covering the entire foot with steel or composite materials. These shoes are designed specifically for individuals who need protection from falling objects or heavy weights while working in dangerous environments such as kitchens, construction sites, or warehouses
The mistakes when purchasing chef shoes
One of the most common mistakes people make when purchasing kitchen shoes is assuming that all shoes are created equal. This couldn't be further from the truth! Chef shoes come in a wide variety of styles and designs, each with its own unique benefits and drawbacks. It's important to take the time to find a pair of shoes that will suit your specific needs as a chef.
Another common mistake is failing to take into account the importance of comfort. Remember, you'll be on your feet for long hours at a time while you're working in the kitchen. If your shoes aren't comfortable, it will only make your job more difficult. Look for shoes with good arch support and cushioning to keep your feet happy during those long shifts.
Finally, don't forget to consider the chef kitchen shoes price when you're shopping for chef shoes. While it's important to find a quality pair of shoes, you don't need to break the bank to do it. There are plenty of great options available at reasonable prices. Take some time to compare different options before making your final decision.
What is the standard for chef shoes?
There are many different types of chef shoes on the market today. They vary in terms of design, durability, and quality. If you're looking for a pair of chef shoes that will last you a long time, then you need to know what standard they meet before you buy them.
The EN 20347 standard is one of the most common standards used when it comes to chef shoes. This standard specifies that any pair of shoes must conform to certain criteria in order to be classified as "chef shoes". These criteria include:
Durable soles – The soles should be thick enough so that they don't break easily when walking over hot surfaces such as grills or ovens. This means that they should also be heat resistant up until at least 300 degrees Celsius (572 degrees Fahrenheit).
Tough uppers – The uppers should be tough enough so that they don't tear or rip easily when worn regularly by chefs who need to move around quickly and often under heavy loads. They should also be flame retardant so that they don't catch fire if accidentally exposed to flames from cooking equipment like gas stoves.
Comfortable insoles – The insoles should be made from materials that are flexible yet comfortable enough to provide good arch support for your feet while also helping to absorb impact during any sudden movements (such as stepping onto an object.
Guidelines for Selecting Kitchen Chef Shoes
When choosing the best chef shoes, we look for three main criteria: practicality, functionality, and design. To understand how each of these factors affects our decisions, let's dive into each in detail.
Ergonomics
A certain type of shoe is historically essential for chefs and professional cooks. If a chef's shoes are not ergonomically sound, they can lead to serious injuries that will affect the cook's ability to work for extended periods of time. Chef shoes comfortable are not always manufactured for the best quality, and shoes that provide excellent support aren't always comfortable.
Comfort
Comfort is a key feature of most footwear, but for chefs, it's an absolute necessity. The shoe chefs wear need to be comfortable for long shifts on their feet, which can range anywhere from eight to 12 hours to even longer. 
While there are many important reasons to wear comfortable shoes at work—for example, if your job requires heavy lifting of bags or cases—most chefs agree that it's absolutely vital to find shoes that support their natural movement. A new shoe that doesn't fit properly can cause blisters or other injuries to the foot and toes; this can lead to complications such as bunions. Even without these problems, though, an ill-fitting shoe will cause pain after a few hours of use—and this pain will distract from your focus on the task at hand. 
Design
When selecting kitchen shoes, it is important to consider your specific needs. If you are a chef who works both the back of the house and the front of the house, you will want to purchase both a slip-on shoe that is appropriate for the prep area and a lace-up shoe that is appropriate for the dining room. If you are working in an extremely hot kitchen environment, or need more support on your feet than what a slip-on can provide, then you should consider purchasing a lace-up work shoe.
Material
The material of the chef shoe is a very important factor to consider when looking for a pair that will last. Shoes are made from many different materials, but those that have leather uppers and rubber soles are best for this type of work.
The soles of the chef shoes need to be made of rubber because rubber is one of the toughest, most durable materials available today. 
Breathability
Breathability is a major factor in any shoe, but it's especially important for a kitchen work shoes. When you're on your feet all day, it's important that the shoe feels comfortable, doesn't inhibit your natural movements and movements, and will not cause blisters or other foot-related injuries. Sweating is a common problem in a hot kitchen environment. It's just part of the process, and usually cannot be avoided. 
Water Resistance
Wearing water-resistant shoes in the kitchen not only protects your feet from spills, but it also helps to protect your employers. If a significant spill were to occur and no one was wearing appropriate footwear, the liability falls on the employer. In addition, water-resistant shoes help prevent slips and falls during wet weather.
Grip
Slips and falls are serious issues in the food industry. Kitchen workers and restaurant patrons alike are at risk of sustaining serious injuries. In fact, according to the National Safety Council, slips, trips, and falls are among the top five causes of accidental death nationwide. Because kitchen environments are generally high-tempo and high-stress, regulations are often ignored or overlooked. However, most people who have been injured on the job have no legal recourse against their employer because they were not following the safety regulations that were in place.
Style
When we buy a new pair of shoes, we want them both to work well and also look good so that we can wear them out of the kitchen, too. So when chefs see all these ugly chef shoes out there—and then we hear that our customers are buying them—it's like a slap in the face.
But it doesn't have to be that way. Those ugly chef shoes can look great, too. We just need to find ones that have style.
Where to buy kitchen chef shoes?
There are many places to buy kitchen worker shoes, but the best place is online such as Amazon. Another option is to purchase them from a local restaurant supply store. The advantage of buying them online is that there is a greater selection to choose from and the prices are often lower. The disadvantage is that you cannot try them on before purchasing and you may have to pay for shipping.
The advantage of buying them from a restaurant supply store is that you can try them on and they may have a loyalty program where you can earn points or discounts on future purchases. The disadvantage is that the selection may be limited and the prices may be higher.
If you can purchase best kitchen shoes in bulk, you can consider buying them from China. the chef shoe price will much cheap if you can buy it from a direct kitchen shoe manufacturer. Anbu Safety is one reliable chef shoe factory in China. if you can buy as MOQ: 100 pairs, you can purchase from them.
The kitchen is one of those work environments where shoe safety is absolutely paramount. After all, the right pair of shoes can make the difference between spending a day on your feet with aching soles and having robust energy levels at the end of your shift. That's why it's critical to find comfortable shoes that provide ample protection from falls and burns, as well as any other hazards that might be lurking in the kitchen.
We baked the list that comes above after doing comprehensive research on various websites, blogs, forums, and other platforms to find out which brands chef shoes and models were the most cherished by experts and consumers. Then we filtered them out from each other based on criteria such as rating score, overall customer satisfaction, brand quality, and price. hope it is useful for you the get the right chef footwear.